500 meters above sea level
The wine produced by Valdorcia Terre Senesi comes from a careful selection of grapes and grape varieties, privileging Sangiovese, which is aged in small and large French oak barrels of various toasting and then refined in the bottle. Blends are also produced using autoctone and international varieties.
The vineyards are located in a valley exposed to the sun from the south-east and south-west at an altitude of 400/500 meters above sea level, in a ventilated place that descends down to the artificial lake.
The quality of our wines comes from the passion for our vineyards, characterized by a soil rich in minerals and the presence of rough fragments of stones called skeleton that guarantee a perfect aeration of the soil.
The absence of stagnation of water and humidity, reduces to a minimum attacks of parasites and fungal diseases, facilitating a low environmental impact agronomic management, according to organic farming regulations.
The temperate climate, warm during the day and cool at night, helps the ripening of the grapes. The farming system adopted by our company is that of spurred cordon and guyot with inter-row grassing. The pruning done with great care, the continuous cleaning of the greenery and the selection of the best bunches allows us to bring the best grapes to the cellar.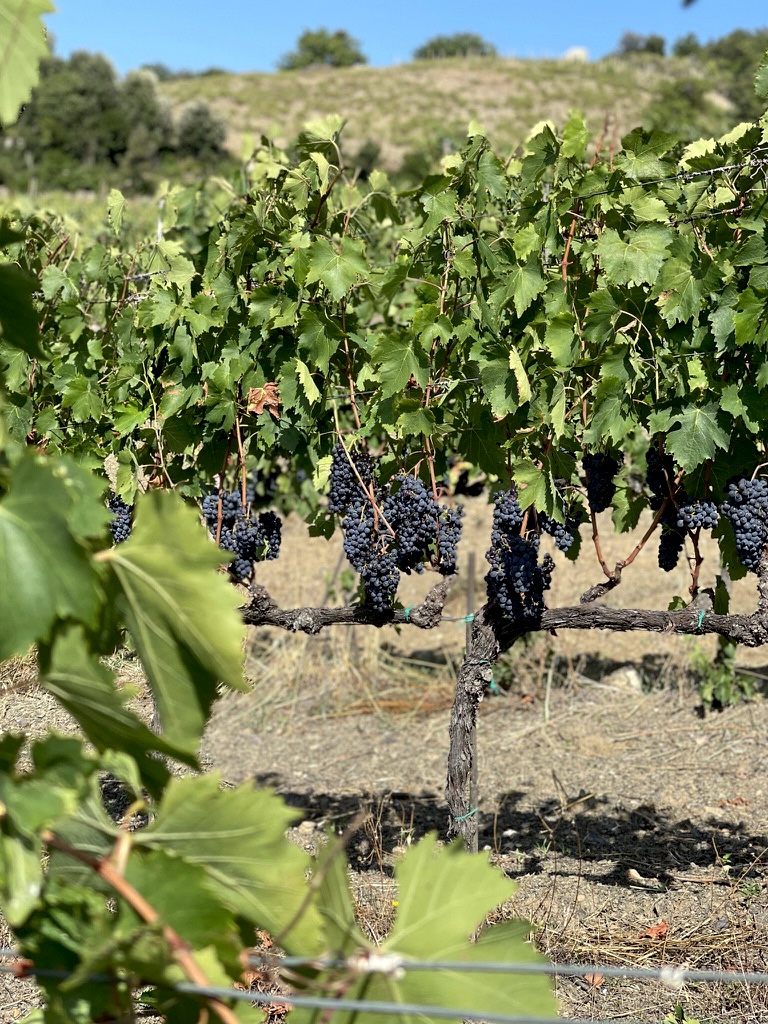 1 SLOPE
HA. 01.66.46
2 plots
Sangiovese vcr5, ciliegiolo vcr1, colorino vcr2, merlot vcr181, cabernet franc vcr10, foglia tonda vcr , pugnitello vcr,
Number of rooted cuttings: 8279
Rows: 77
Planting distances: 80×250
Planting year: 2013
Training system: guyot
Sowing type: traditional
Cultural rotation: green manure
Type of irrigation: absent
Soil management: grassing in alternate rows
Soil: stony parts with lamellar structure (marl) with presence of sand and limestone
2/3 SENIOR
HA. 00.75.22
2 plots
Sangiovese grosso clone …
Number of rooted cuttings: 3963
Rows: 33
Planting distances: 80×280
Year of planting: 2002
Training system: spurred cordon
Type of sowing: traditional
Cultural rotation: green manure
Type of irrigation: absent
Soil management: grassing in alternate rows
Soils: stony parts with lamellar structure (marl) with presence of sand and limestone
4 O' THREE
HA. 00.90.90
1 plot
Sangiovese grosso clone vcr23 and vcr102
Number of rooted cuttings: 4810
Rows: 47
Planting distances 70×270
Planting year: 2017
Training system: guyot
Sowing type: traditional
Cultural rotation: green manure
Type of irrigation: absent
Man management: alternate rows of vines
Soil: stony parts with lamellar structure (marl) with presence of sand and limestone
5/6 GEMSTONE
HA. 00.51.48
2 plots
Sangiovese grosso vcr23 and vcr102
Number of rooted cuttings: 2680
Rows: 40
Planting distances: 80×240
Planting year: 2019
Training system: spurred cordon
Sowing type: traditional
Cultural rotation: green manure
Type of irrigation: absent
Soil management: grassing in alternate rows
Soil: presence of marls, slightly calcareous and clayey
7 OASIS
HA. 16558
2 plots
Sangiovese grosso clone vcr23 and vcr102, vermentino vcr1
Number of rooted cuttings: 8279 – 500
Rows: 75
Planting distances: 80×250
Planting year: 2013
Training system: guyot
Sowing type: traditional
Cultural rotation: green manure
Type of irrigation: absent
Soil management: grassing in alternate rows
Soil: presence of marls, slightly calcareous and clayey
8 ROOFTOP
HA. 0.63.80.
1 plot
Riesling (vcr3)
Number of rooted cuttings: 349
Rows: 9
Planting distances: 80x…
Planting year: 2019
Training system: espalier/pergola
Type of sowing: traditional
Cultural rotation: green manure
Type of irrigation: absent
Soil management: grassing in alternate rows
Soil: presence of marl, slightly calcareous and clayey marls
9 JUNIOR
HA. 00.84.30
1 plot of land
grechetto
Number of rooted cuttings: 500
Rows: 11
Planting distances: 80×240
Planting year: 2019
Training system: guyot
Sowing type: traditional
Cultural rotation: green manure
Type of irrigation: absent
Soil management grassing in alternate rows
Soil: stony parts with lamellar structure (marl) with presence of sand and limestone